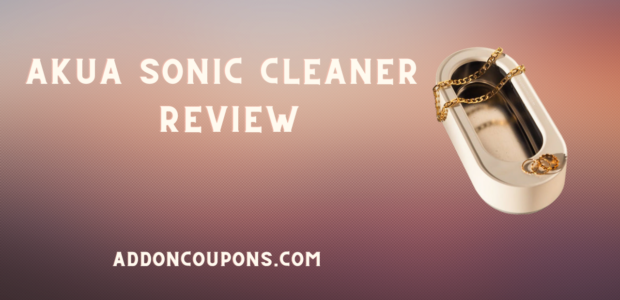 When it comes to keeping your diamonds sparkling and your class ring in pristine condition for the upcoming reunion, a great jewellery cleaner can polish and protect them all. The best jewellery cleaner is designed for specific materials and stones, and it specifically targets dirt and grime that accumulates over time.
So, the best jewellery cleaner according to our research is Akua Sonic Cleaner. The Akua Sonic Cleaner is a device designed to clean jewelry, eyeglasses, and other small items using ultrasonic technology. In this review, we will explore the features and benefits of the Akua Sonic Cleaner and discuss its performance and usability.
What is Akua Sonic Cleaner?
Akua Sonic Cleaner is the perfect tool for anyone who needs an easy and effective way to clean delicate items. Its ultrasonic scrubbing technology uses high-frequency sound waves to provide powerful, deep cleaning that quickly and effectively removes dirt, grime, oils, and other contaminants from jewelry, eyeglasses, and other small objects. In addition, the cleaner can also be used to sterilize items and lift stubborn odors with ease. The Akua Sonic Cleaner is adjustable to fit multiple sizes of objects, making it a great choice for those who demand thorough yet gentle cleaning results. Akua Sonic Cleaner is a affordable cleaner and you can use our Akua Sonic Cleaner coupons to get a better deal on Akua Sonic Cleaner.
Specifications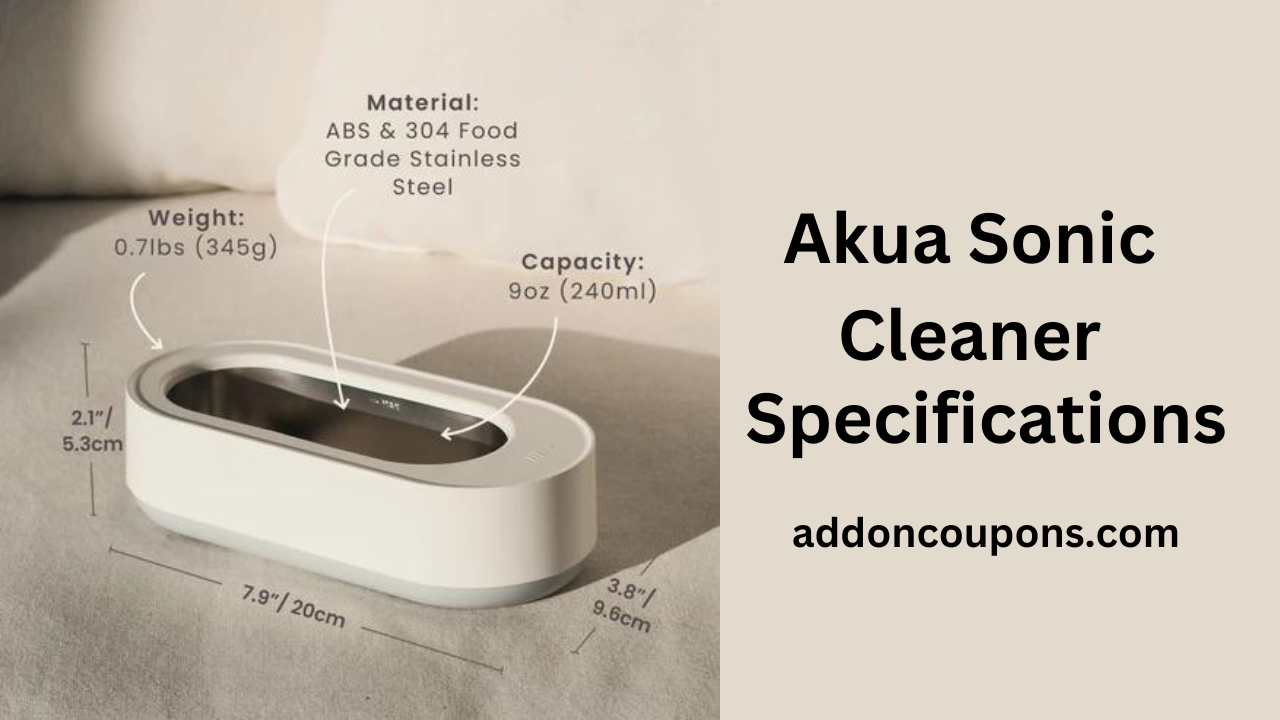 Material: ABS & 304 Food Grade Stainless Steel
Frequency: 45000Hz
Capacity: 9oz (240ml)
Weight: 0.7lbs (345g)
PowerSupply: AC100-240V 2A
How does it work?
The Akua Sonic Cleaner uses ultrasonic energy to create millions of nano bubbles that release and lift contaminants that naturally accumulate on jewellery.
Foreign materials such as oils, sweat, and lotions are separated from jewellery at a microscopic level in this process, ensuring they do not inadvertently cause long-term damage to your prized possessions.
What can you clean in an Akua Sonic Jewelry Cleaner?
Akua Sonic Jewelry Cleaner can clean the following items:
Jewelry. Cleaning rings, bracelets, necklaces, and earrings with ultrasonic cleaners is a breeze. The ultrasonic cleaner can clean gold, silver, and platinum jewellery, as well as pieces with gemstones such as diamonds, sapphires, and rubies. It is not recommended to clean jewellery made of rose gold or organic, porous stones. In the following section, we will discuss which types of jewellery should not be cleaned with an ultrasonic cleaner.

Makeup tools. Makeup tools such as eyelash curlers, brushes, beauty blenders, spoolies, and tweezers are frequently used and, unfortunately, difficult to clean. The Akua cleaner makes this a breeze, taking only 3 minutes and requiring only a small tub of water. When cleaning brushes with natural hair, avoid using detergents or cleaners containing alcohol, as this may cause damage to the delicate hair. For a more thorough clean, use only water or baby shampoo.
Watch components. An ultrasonic cleaner can be used to clean watch parts such as straps, buckles, and bracelets. Even if the watch head is waterproof, never use an ultrasonic cleaner to clean it. Ultrasonic energy has the potential to harm movement mechanisms and rubber seals.

Eyeglasses and sunglasses. If the paint or coating on the glasses is not damaged or cracked, ultrasonic cleaners will thoroughly clean them.

Small plastic toys. It is possible for kids' plastic toys, such as rubber ducks and figurines, to get dirty while playing with them as well as wherever else they use them. Using non-harmful cleansers, effectively remove dirt, grime, and bacteria.

Drink Bottle Mouthpieces. The mouthpieces for drink bottles and hydration sacks can become really moldy if not cleaned properly. Remove mold and bacteria completely with just water – no harsh chemicals needed!

Dentures. Tartar, bacteria, and stains accumulate on dentures and other dental appliances. They need to be cleaned thoroughly and daily due to their frequent use and importance for oral hygiene.

Airbrush and paint spray guns. Old paint can be removed with ultrasonic cleaners. For parts of airbrushes and spray guns, this is ideal.

Printheads. Unclogging printheads by hand can be challenging. Ultrasonic cleaners make it easy.

Tools. Tools with small crevices, such as drill bits and taps, can be difficult to clean. It's easy to remove these with ultrasonic cleaners, which use microscopic bubbles of energy to lift them off.
What shouldn't you clean in an Akua Sonic Jewelry Cleaner?
Because an Akua Sonic Jewelry Cleaner can clean almost anything, it's easier to list what shouldn't be cleaned. There are three major categories: items that can be harmed by water, organic and porous items, and items that are already chipped, scratched, or damaged.
Here's a quick rundown of what you shouldn't clean in an ultrasonic cleaner
Soft gemstones and organic jewelry. In an ultrasonic cleaner, you cannot clean emeralds, turquoise, opals, lapis lazuli, malachite, tanzanite, corals, amber, and pearls. The same applies to gems covered in oil, plastic, or wax.

Glasses that have been scratched. Scratched coatings are more likely to be further damaged.

The watch heads. Despite being advertised as waterproof, watch heads should never be submerged in ultrasonic cleaners. Rubber seals and movement mechanisms can be damaged by ultrasonic vibrations.

Painted items. Paint can be easily removed with ultrasonic cleaners. Don't use an ultrasonic cleaner unless you want to remove paint.
What makes Akuasonic the Best?
Get jeweler-grade cleaning power.
A quick three-minute cycle.
Removes contaminants gently.
It cleans glasses, razors, and much more.
Suitable for a variety of jewelry types.
Shipping is free for expedited orders.
Enjoy a risk-free shopping experience.
What is sonic cleaning?
Sonic cleaning is a type of cleaning technique that uses high-frequency sound waves to remove debris, dirt, and other contaminants from a variety of objects. Unlike traditional cleaning methods, sonic cleaning requires no scrubbing or harsh chemicals, making it a great choice for the gentle handling of delicate items. It works by producing powerful sound waves that penetrate deep into small objects and effectively lift away dirt, oils, and grime. Furthermore, sonic cleaning is also an effective way to sterilize items and eliminate odors. In short, sonic cleaning is an efficient and gentle way to keep almost any kind of object sparkling clean.
Why do you need ultrasonic jewelry cleaning?
Ultrasonic cleaning can thoroughly clean jewellery in ways that other methods cannot. It cleans at a microscopic level, unconstrained by tight crevices and intricate designs that most other cleaning methods cannot handle. When used on a regular basis, it provides a method for effectively and efficiently removing contaminants that reduce jewellery lifespan.
How much does it cost?
It is currently on sale so you can get this amazing Akua Sonic Jewelry Cleaner only at $ 124.99 else the price is $199.00, hurry up the sale wont last for long.  You may also use our Akua Sonic Cleaner coupons to get a more better deal. 
Conclusion
Overall, the Akua Sonic Cleaner is a great investment for anyone looking to keep their small items clean and well-maintained. With its powerful cleaning capabilities, user-friendly design, and portability, the device offers a convenient and effective solution for all your cleaning needs. You may use Akua Sonic Jewelry Cleaner coupons if you want to try it or gift it to your friends and family.