Welcome to our comprehensive review of Banggood, a global leading direct-to-consumer online retailer that offers a wide range of products at highly competitive prices. With over 66 million registered users worldwide and a strong presence in North America, Europe, Asia Pacific, South America, and the Middle East, Banggood has become a popular choice for online shoppers seeking consumer electronics, home appliances, tools, sports equipment, clothing, and more.
In this review, we will provide an in-depth overview of It's history, product categories, customer service, achievements, and promotions, giving you a detailed insight into what makes Banggood stand out in the online retail market. Whether you are a new or existing customer, we hope this review will help you make an informed decision about shopping with Banggood. So, let's dive into the world of Banggood and explore what this online retailer has to offer!
What is Banggood?
Banggood, founded in 2006 in Guangzhou, China, is a global leading direct-to-consumer online retailer that has grown to serve over 66 million registered users worldwide. With a wide reach in North America, Europe, Asia Pacific, South America, and the Middle East, it offers a vast selection of well-selected products from over 100,000 reliable suppliers, spanning across 30 categories and 1,000,000 superior-quality products. These categories include consumer electronics, home appliances, tools, sports, clothing, and more.
One of the key factors that sets this ecommerce store apart is its commitment to improving customer service. This includes establishing a robust logistics and fulfillment system to provide a 24/7 professional service to customers. It has also been recognized for its achievements over the years, such as becoming one of the Most Downloaded Shopping Apps in Europe in 2021, according to App Annie, an authoritative app analytics platform.
Milestones reached
It has achieved several significant milestones throughout its history. In 2010, it launched its US warehouse and logistic system, which helped to improve its delivery and fulfillment capabilities for customers in the United States. In 2012, it reached 10 million registered members, a testament to its growing customer base and popularity. In 2015, it was recognized as one of the Top 50 Brands in China, showcasing its strong brand presence and influence.
In 2017, the company hit 35 million users and 400,000 shipments per month, indicating its rapid growth and expanding customer base. In 2018, it was recognized as one of the BrandZ™ Top 50 Chinese Global Brand Builders, showcasing its brand value and impact on the global market. In 2019, Banggood established the BG Express shipping service in the UK, Germany, the USA, Belgium, and other countries, further improving its logistics capabilities and expanding its global reach.
It offers a wide range of product categories to cater to various customer needs. These include toys, hobbies, and robots; sports and outdoor equipment; tools, industrial, and scientific products; automobiles and motorcycles; electronics; phones and accessories; computers and office supplies; home appliances; home, garden, and furniture; lights and lighting; men's and women's clothing; shoes and bags; health, beauty, and hair products; jewelry and watches.
Banggood Computers Electronics and Technology
This is an online retail platform that offers a wide range of computers, electronics, and technology products. It is known for providing an extensive selection of affordable and high-quality gadgets, making it a popular destination for tech enthusiasts and bargain hunters alike.
Computers: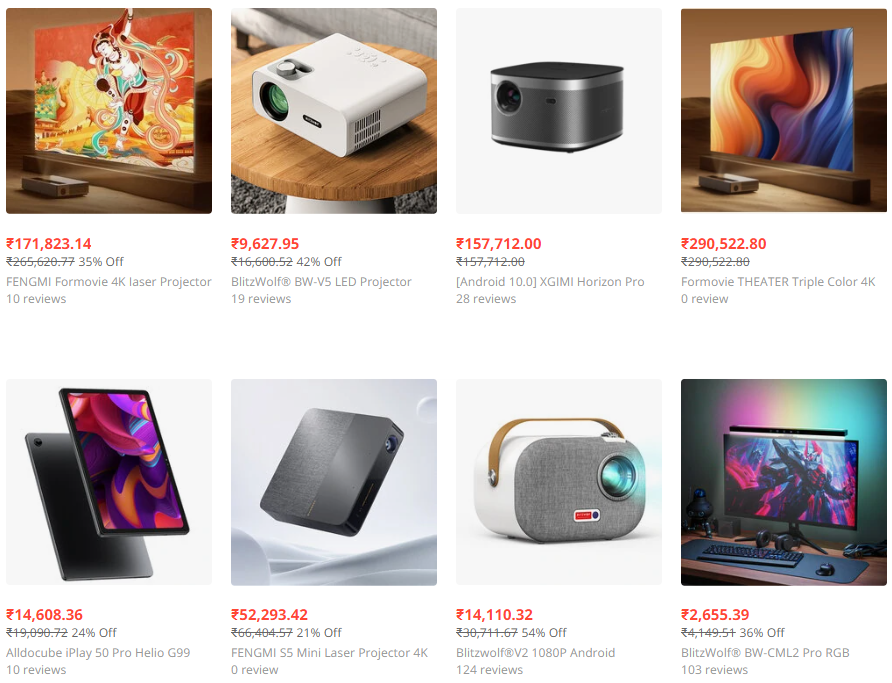 It offers a diverse range of computers, including laptops, desktops, and mini PCs. These computers are sourced from reputable brands and come in various configurations to cater to different needs and budgets. Customers can find powerful gaming laptops, sleek ultrabooks for on-the-go productivity, budget-friendly Chromebooks, and versatile all-in-one desktops, among others. It also offers computer accessories such as keyboards, mice, webcams, and storage devices to complement their computer offerings.
Electronics:
The electronics category encompasses a wide array of products, including smartphones, tablets, smartwatches, drones, cameras, audio equipment, and more. Customers can choose from a vast selection of popular brands, including Xiaomi, OnePlus, DJI, Huawei, and many others. Whether it's the latest flagship smartphone, a budget-friendly tablet for entertainment on the go, a feature-rich smartwatch to track fitness, or a high-quality camera to capture precious moments, it has something for everyone.
Technology: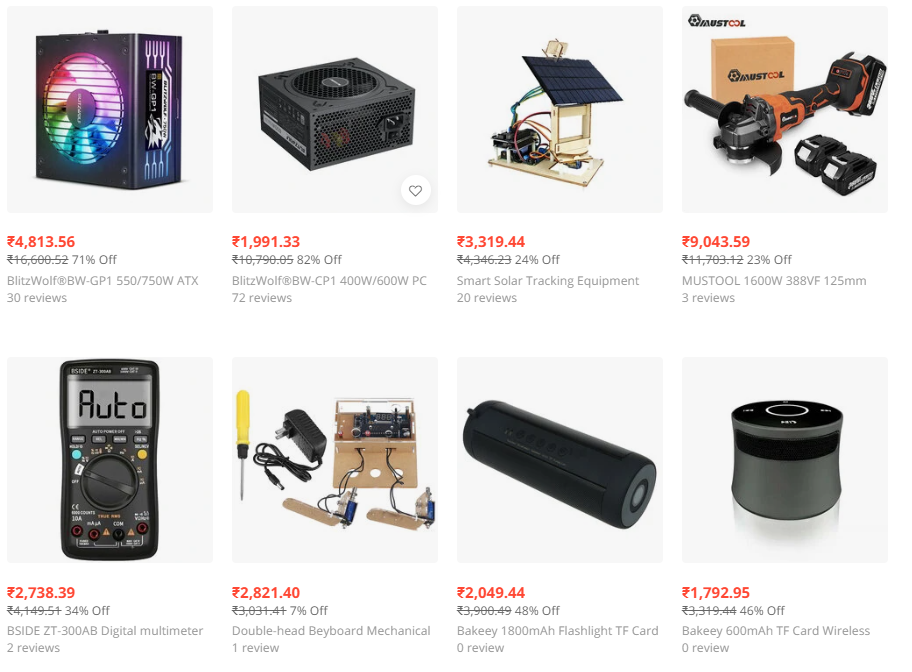 It also offers a diverse range of technology products, including 3D printers, robots, smart home devices, wearable gadgets, and more. Tech enthusiasts can find cutting-edge gadgets like virtual reality headsets, home automation systems, IoT devices, and advanced DIY kits for building your own tech projects. It's technology offerings are geared towards catering to the needs of tech-savvy consumers who are always on the lookout for the latest innovations and gadgets.
Banggood Home Appliance and Furniture
Banggood, a well-known online retail platform, also offers a wide range of home appliances and furniture to cater to the needs of customers who are looking for convenient and affordable solutions to enhance their homes.
Home Appliances: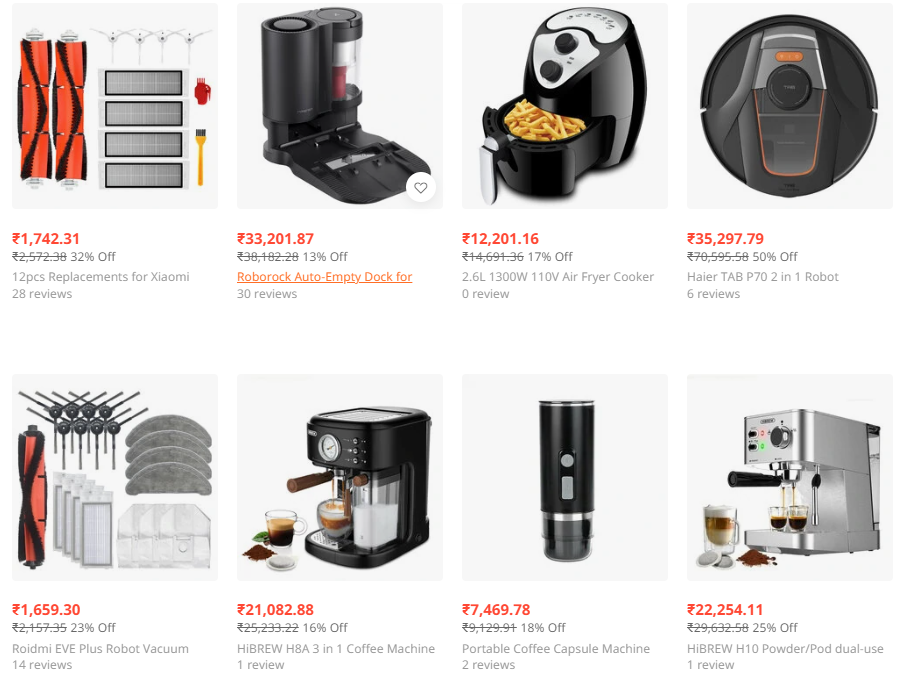 It's home appliances category includes a diverse range of products for various aspects of daily living. Customers can find kitchen appliances such as blenders, air fryers, coffee makers, and electric kettles to assist with food preparation and cooking. There are also cleaning appliances like robot vacuum cleaners, cordless vacuum cleaners, and air purifiers to help maintain a clean and healthy living environment. Other home appliances include fans, heaters, humidifiers, electric toothbrushes, and more, providing a wide selection of products to meet the diverse needs of customers.
Furniture: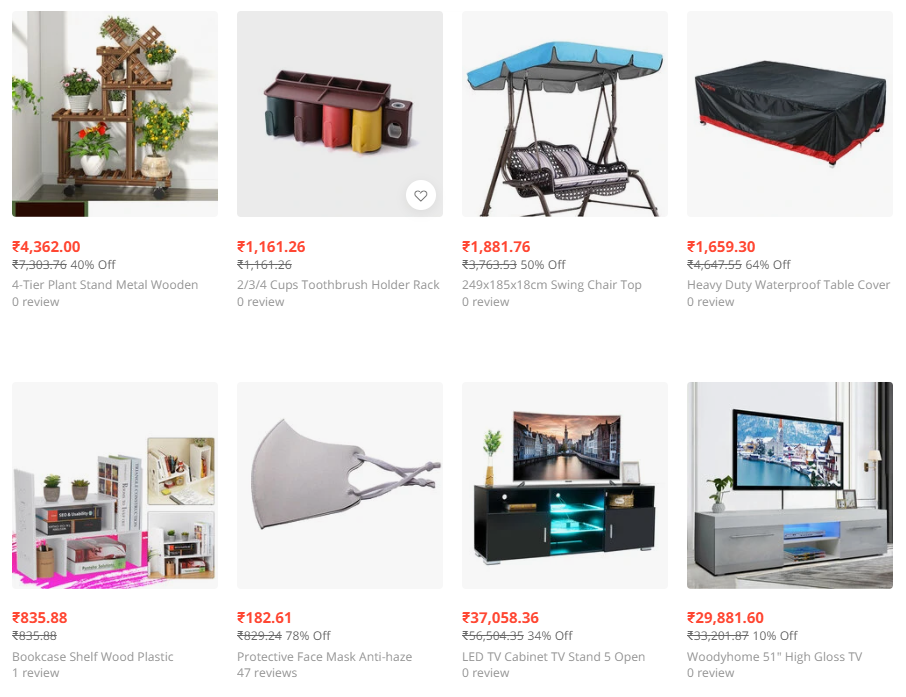 It also offers a range of furniture products to help customers create comfortable and stylish living spaces. Customers can find furniture for various rooms in their homes, including the living room, bedroom, dining room, and home office. It's furniture offerings include sofas, chairs, tables, beds, desks, cabinets, and more, available in different styles, materials, and sizes to suit different preferences and room sizes. Whether it's a modern sofa for the living room, a functional desk for a home office setup, or a comfortable bed for a good night's sleep, customers can find a variety of furniture options to enhance their homes.
Banggood Coupons
For new users, Banggood offers free gifts and 12% coupons on orders over US$4.01, providing added value and incentives to shop on their platform. This demonstrates It's commitment to providing a positive shopping experience for its customers and fostering customer loyalty. Also, there is a section of flash sale and clearance sale so , if you are interested in saving some money, and shopping from this ecommerce store, then you must look at this section first. Also, our site, offers some exclusive Banggood Coupons and discount offers for you to help you SAVE MORE. 
Why buy from Banggood?
Affordability and Quality:
Similar to other product categories, It's home appliances and furniture are competitively priced, offering affordable options for customers. Despite the affordable prices, It maintains a commitment to quality, ensuring that the home appliances and furniture products it offers meet the required standards. Customers can find products from reputable brands and read reviews from other customers to make informed decisions about their purchases.
Global Shipping and Customer Support:
It provides worldwide shipping for its home appliances and furniture products, making them accessible to customers around the world. The platform also offers multiple shipping options to cater to different budgets and delivery timelines. Additionally, it has a dedicated customer support team that assists customers with their inquiries, order tracking, returns, and refunds, ensuring a smooth and satisfactory shopping experience.
User-friendly Website and Mobile App:
It's website and mobile app are designed to provide a seamless shopping experience for home appliances and furniture. Customers can easily search, browse, and purchase products using the user-friendly interface. Detailed product information, specifications, and customer reviews are available to help customers make informed decisions. The platform also offers secure payment options and convenient order tracking to keep customers updated on their purchases.
Conclusion
In conclusion, Banggood has emerged as a global leading online retailer since its founding in 2006. With a wide range of products, a strong commitment to customer service, and numerous achievements and milestones, it has established itself as a reputable and reliable choice for consumers looking for cost-effective and quality products.
FAQ
How can I place an order on Banggood?
To place an order, simply follow these steps:
Create an account on the Banggood website or mobile app.
Browse and select the products you wish to purchase and add them to your cart.
Review your cart and proceed to checkout.
Provide your shipping address and select a shipping method.
Choose a payment method and complete your payment.
Review your order details and click "Place Order" to confirm your purchase.
What payment methods does Banggood accept?
It accepts various payment methods, including credit/debit cards (Visa, MasterCard, American Express), PayPal, Google Pay, Apple Pay, and more. The availability of payment methods may vary depending on your location.
How long does it take for my order to be shipped?
The shipping time for your order depends on the product, shipping method, and destination. It offers different shipping options, including standard shipping, express shipping, and priority line, each with different estimated delivery times. You can check the estimated shipping time for your specific order during the checkout process.
Can I track my order?
Yes, Banggood provides order tracking for most of its shipments. Once your order is shipped, you will receive a tracking number via email or in your account. You can use this tracking number to track the status of your order on the its website or through the tracking carrier's website.
What should I do if I have a problem with my order or product?
If you encounter any issues with your order or product, you can contact It's customer support team for assistance. You can reach out to them through the "Contact Us" page on the Banggood website or app, or through the live chat feature. Be sure to provide your order number and detailed information about the issue to facilitate a quick resolution.
What is It's return policy?
It has a return policy that allows customers to return products within a specified timeframe for various reasons, such as receiving a defective or damaged item, receiving the wrong item, or changing your mind about the purchase. The return policy may vary depending on the product category and location. It's recommended to review It's return policy on their website for specific details.