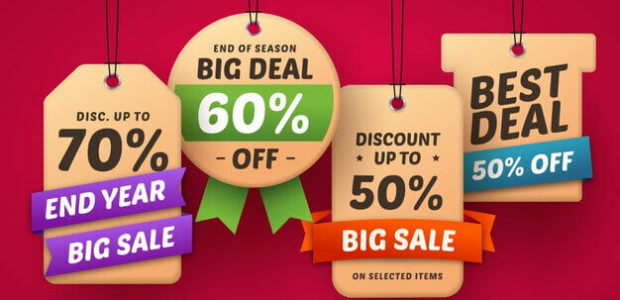 This 2023 Shopping Calendar is the ultimate resource for shoppers looking to get the best deals and sales each month. It features all the major sales events and holidays from January to December, including Valentine Day, 4th July, Black Friday, Cyber Monday, and Amazon Prime Day. Whether you're looking for the best prices on electronics, clothes, home goods, or anything else, this calendar has you covered.
Hot Sales
| Event | Discount | Date |
| --- | --- | --- |
| 🇺🇸 MLK Day Sales | Up to 90% off | Jan. 16, 2023 |
| 💕 Valentine's Day Sales | Up to 80% off | Feb. 14, 2023 |
| 🌈 St. Patrick's Day Sales | Up to 70% off | Mar. 17, 2023 |
| 🐰 Easter Sales | Up to 70% off | Apr. 09, 2023 |
| 👩 Mother's Day Sales | Up to 70% off | May 14, 2023 |
| 🇺🇸 Memorial Day Sales | Up to 70% off | May 29, 2023 |
| 👨Father's Day Sales | Up to 70% off | Jun. 18, 2023 |
| ✨ 4th of July Sales | Up to 70% off | Jul. 04, 2023 |
| 🇺🇸 Labor Day Sales | Up to 80% off | Sep. 04, 2023 |
| 🎃 Halloween Day Sales | Up to 90% off | Oct. 31, 2023 |
| 🖤 Black Friday Sales | Up to 90% off | Nov. 24, 2023 |
| 🛍️ Cyber Monday Sales | Up to 70% off | Nov. 27, 2023 |
January Sale
Retailers usually start offering great deals on winter apparel and holiday decorations after the holidays to make room for new inventory. Aside from clearance sales, the first month of the year is known for its white sales. Back in the day, only bedspreads, duvets, pillows, and other bedroom essentials had discounted prices during white sales. Now, many household items, including bath essentials, get massive discounts, too.
With Super Bowl season right around the corner, you're going to see incredible deals on TV sets. If you're looking to upgrade your home theater system, January is one of the best times of the year to do so.
January Products on Sale
✓ Winter Apparel
Instead of shopping for winter gear in the fall, you can do it in January. To clear their racks of heavy coats, sweaters, scarves, and snow boots, retailers will offer winter and outdoor apparel at cheaper prices after the holiday rush. Macy's and Nordstrom, for instance, are offering clearance sales on winter apparel with 20% to 80% discounts.
✓ Health & Fitness Gear
Fueled by the "New Year, new me" mindset, several people usually start new exercise regimens and wellness habits at the beginning of every year. We'll be seeing discounts starting from $30 to $100+ on health and fitness gear, from kettlebells and dumbbells to muscle stimulators.
✓ TVs
The Super Bowl LVII takes place on a Sunday, February 12. In the weeks leading up to that date, mid-range and high-end TV sets are going to go on sale to make room for new iterations coming out later in the year. Currently, 4K OLED TVs, like the LG CX Series, will have about a $450 drop-in price.
✓ Household Lines
From beddings and tablecloths to towels, household linens will go on sale in January as department stores and home goods retailers scramble to sell excess stock. You can enjoy up to 30% off on bedding and bath linens in Home Depot.
✓ Bath Items
You can stock up and save big on bath essentials because retailers are offering discounts on select products throughout the month. Lowe's and The Home Depot are offering up to 40% off on bath items.
Important Shopping Days in January
Jan. 01 • New Year's Day
Brick-and-mortar stores might not be open on New Year's Day. However, you'll see a wide range of New Year's Day sales online.
Jan. 02 • National Science Fiction Day
Celebrate your love for fantasy and fiction by shopping for discounted books and comics on National Science Fiction Day. Go to your local bookstores and sci-fi shops to get great deals and, perhaps, freebies on your favorite stories.
Jan. 04 • National Spaghetti Day
Satiate your pasta cravings on National Spaghetti Day. On this day, local restaurants and big chains may offer discounted prices and freebies on spaghetti dishes.
Jan. 09 • National Law Enforcement Appreciation Day
If you enjoy hunting, fishing, or you simply appreciate a good outdoor adventure, you'll find special rates and coupons for tactical, outdoor, and fitness gear and apparel during National Law Enforcement Appreciation Day.
Jan. 10 • National Cut Your Energy Costs Day
There's no better time to improve energy consumption at home. On National Cut Your Energy Costs Day, you can save big on energy-efficient home essentials and accessories. You can lower your bills and reduce your carbon footprint.
Jan. 16 • Martin Luther King Jr. Day
Celebrate MLK Day and get huge MLK Day discounts of up to 50% for winter essentials, clothes, home furnishings, and cosmetics.
Jan. 21 • National Use Your Gift Card Day
Have any gift cards lying around? Now is the perfect time to use them to get plenty of savings and other great deals.
Jan. 22 • Lunar New Year
Keep an eye out for sales and deals from major brands to mark the beginning of the year in the lunar calendar.
February Sale
February is the month of love, and it's also a month with great deals in store for you. This month has many food-themed celebrations, such as National Pizza Day, that will surely delight foodies. Take a look at our shopping calendar to find deals and freebies that will make this month extra special.
February Products on Sale
✓ Electronics
Black Friday may be over, but you can still see sales that are branded around big events such as the Super Bowl, Valentine's Day, and Presidents' Day.
Aside from the Super Bowl, Presidents' Day sales can help you save big on electronics including laptops, desktops, tablets, and smartphones. Expect discounts of up to 70% from stores such as Lenovo and HP. Retailers such as Best Buy might even offer bigger deals on that day.
To top things off, new gadgets and electronics have been announced throughout a multitude of tech events in January (such as CES®). This makes it an excellent time to still get a good deal on some of the best monitors, laptops, projectors and other hardware, as manufacturers are lowering prices to sell what's left of the old inventory while restocking on the current year's tech.
✓ Gardening Items
Keep your garden well-maintained and be ready for planting season when it comes by snagging the best deals on gardening items this month.
✓ Seasonal Produce
Fresh is always best! Enjoy healthy and delicious fare this month without breaking the bank and grab seasonal produce such as broccoli, kale, leeks, cauliflower, grapefruit, and lemons.
Important Shopping Days in February
Feb. 09 • National Pizza Day
Who doesn't love pizza? Many pizza chains such as Little Caesars and Papa Murphy's offer National Pizza Day deals and freebies.
Feb. 12 • Super Bowl Sunday
Fans and the general public alike can enjoy not just the culmination of the NFL season, but also great Super Bowl deals on game food and TV sets.
Feb. 14 • Valentine's Day
Enjoy Valentine's Day discounts for various items such as jewelry and chocolates.
Feb. 20 • Presidents Day
During this event, you can get the best President's Day deals for electronics, clothing, and household items, so be sure to check out major brands and retailers to enjoy big discounts.
Feb. 21 • National Pancake Day
Pancake lovers rejoice! Check out major chains such as IHOP and Denny's and get a chance to enjoy freebies and other awesome deals.
March Sale
While March doesn't have any major holidays and big holiday-themed sales and offers, it does hold some deals for some essentials. So, what can you look forward to this month? There might be some retailers who will take advantage of this holiday and use it to promote deals and offers.
You can expect some sales and modest discounts for St. Patrick's Day on items such as electronics and St. Paddy's Day essentials.
March Products on Sale
✓ Tax Software
Expect deals on tax-prep items such as tax software in preparation for Tax Day in April.
✓ Winter Sports Gear
Are you a winter sports enthusiast? March will bring some incredible sales as stores are getting ready to clear their shelves to prepare for stocking up on warm weather gear. Brands such as The North Face and Patagonia might have winter clearance sales and discounts.
✓ Seasonal Produce
Buying seasonal produce is a budget-friendly way of enjoying fresh and delicious fare. Look for produce such as artichokes, lettuce, mushrooms, and pineapples.
Important Shopping Days in March
Mar. 08 • International Women's Day
Celebrate women's achievements while enjoying great deals and big savings on essentials. While you're at it, treat yourself to some of life's little luxuries, as some cosmetics and clothing brands will offer anywhere from 10% to 25% off.
Mar. 14 • National Pi Day
Pi Day isn't just for math enthusiasts, it's also for pizza lovers! Look forward to Pi Day discounts and freebies from pizza chains on Pi Day.
Mar. 17 • St. Patrick's Day
Have fun while enjoying great deals on St. Patrick's Day. Look for discounts on party supplies, jewelry, and green-themed items from your favorite retailers.
Mar. 20 • First Day of Spring and International Day of Happiness
March gives you something to smile about as retailers and online stores offer generous discounts and deals. Also, look forward to seeing offers on seasonal products and produce to welcome Spring.
Mar. 23 • National Puppy Day
Look out for the best National Puppy Day deals, offers, and freebies to keep your pet happy and healthy.
Mar. 25 • Afterpay Day
This Afterpay Day, enjoy generous discounts, both online and in-store, of up to 70% off from a variety of brands covering numerous categories, from fashion to tech. What started out as a 24-hour sale from Afterpay, a popular payment installment service, has now become a bi-annual shopping event. You can look forward to great deals and offers from brands such as Kate Spade, Adidas, and Dyson.
April Sale
With Spring just around the corner, April is an ideal time to buy household essentials, spring apparel, and office supplies. Get ready to look for the best deals that will help you welcome Spring with a spring in your step.
April Products on Sale
✓ Spring Cleaning Items
With Spring cleaning comes sales for essentials that help keep your home spic and span. If you're planning to buy a new vacuum, April would be a good time to do so. Look for discounts from online retailers as well as brands like Dyson.
✓ Spring Apparel
April is a wonderful time to stock up on clothes for Spring and Summer. Brands and retailers will offer generous discounts, from 20 to 70% off, on business casual styles and athletic wear.
✓ Easter Candy
Indulge your sweet tooth on some of the best Post-Easter deals and markdowns on candies and chocolates.
✓ Office Supplies
With April being the tax month, you can expect to find deals on office items like paper shredders.
Important Shopping Days in April
Apr. 10 • National Sibling Day
Let your sibling know how much you love them by celebrating with two-for-one discounts or special sales for personalized or matching items.
Apr. 11 • National Pet Day
Retailers and pet supply stores will offer promos that will help you give your pets the best food, toys, and accessories all while allowing you to enjoy savings.
Apr. 09 • Easter
Easter heralds spring deals, so look for special offers on clothing, seasonal items, and home essentials. See the best Easter deals.
Apr. 22 • Earth Day
A number of retailers and restaurants celebrate Earth Day by giving out Earth Day freebies and discounts with a focus on eco-friendly and sustainable products. Some national parks even offer promos such as free entrance to celebrate National Park Week.
Apr. 23 • World Book Day
Bookworms unite! Celebrate World Book Day by visiting your favorite bookstores and get great offers on your favorite titles. If you prefer e-books, then you should check out Amazon as they might have some free titles up for grabs on the Kindle Store.
May Sale
May brings with it not just warmer weather, but also plenty of generous offers branded around significant celebrations such as Memorial Day and Mother's Day.
May Products on Sale
✓ Star Wars Items
Star Wars fans rejoice and May the Fourth Be with You as retailers offer special discounts for Star Wars-themed merchandise, such as shirts and toy sets. Lego might also offer deals on some of their smaller Star Wars-themed sets.
✓ Mother's Day Gifts
While flowers are always a great gift for mothers, you might see higher prices for them and for jewelry, especially on the day before Mother's Day. Why not try giving your mother and mother figures something offbeat? Whether she's a DIY enthusiast or an avid reader, retailers and brands offer generous discounts of up to 70% off for their Mother's Day sale.
✓ Large Appliances and Kitchen Gadgets
May is one of the best times to make big purchases for your home. Memorial Day sales offer generous deals on large appliances and small kitchen items, with some retailers like Home Depot, Lowe's, and Best Buy offering anywhere from 40% to 60% off on selected items.
✓ Furniture
Expect to see big discounts for big-ticket items like furniture on Memorial Day, which falls on the 29th. Look for offers from popular chains like Walmart and Home Depot.
Important Shopping Days in May
May 02 • Teacher Appreciation Day
Show your appreciation for teachers on this day. Expect retailers to offer teachers discounts and freebies the whole week, from May 1st to May 5th, on items such as school supplies, gadgets, food, and software.
May 04 • Star Wars Day
May the Fourth Be with You as you enjoy deals on Star Wars-themed merchandise offered by some of your favorite retailers.
May 05 • Cinco de Mayo
Celebrate this holiday with festivities and offers on Mexican food and drinks from restaurants and bars.
May 06 • Free Comic Book Day
On this highly anticipated event by comic book enthusiasts and collectors, you can expect to snag up to 50 free titles from participating comic book shops.
May 14 • Mother's Day
One of the most important holidays is made extra special with Mother's Day offers and store campaigns that will help you find the best gift for the most important woman in your life.
May 12 • International Nurses Day
To show our gratitude to the nurses who work tirelessly in the healthcare industry, we're celebrating International Nurses Day on May 12 and Nurses Week from May 6 to 12, 2023. Look for Nurses Day and Nurses Week discounts and deals from brands such as Starbucks, Krispy Kreme, Adidas, and Nike.
May 25 • National Wine Day
Whether you're an occasional wine drinker or a certified oenophile, you'll find offers and discounts on some of your favorite wines, wine accessories, and wine-themed novelty items.
May 28 • International Burger Day
In celebration of one of the most iconic American foods, be prepared to look for freebies and deals from major burger chains such as McDonald's, Five Guys, Wendy's, and Burger King.
May 29 • Memorial Day
A federal holiday, Memorial Day brings with it plenty of savings, especially for big-ticket items like furniture, mattresses, and appliances. Check the websites of your favorite stores to see what they have to offer on Memorial Day. See the best Memorial Day sales and deals.
June Sale
June may be a relatively short month without any major holidays, but it can still give you plenty of opportunities to snag a deal on items such as underwear, lingerie, and gym memberships. Gamers should look forward to discounts on video games.
June Products on Sale
✓ Video or PC Games
Look forward to the Steam Summer Sale or GOG's sale if you want to snag DRM-free titles. Get to enjoy up to 90% off on some of your favorite titles.
✓ Father's Day Gifts
Expect Father's Day sales from retailers and home improvement stores. Look for discounts on power tools and electronics.
✓ Spring Clothes
Be ready for warmer weather as retail stores and brands like Macy's and Puma roll out discounts for summer-ready clothing and footwear.
✓ Air Conditioners
Be ready for the summer heat with deals on air conditioners. You can expect to find discounts on personal and portable air conditioners, as well as for dehumidifiers.
Important Shopping Days in June
Jun. 02 • National Doughnut Day
You might be able to get some free doughnuts from doughnut chains on National Doughnut Day. Don't forget to check your favorite stores' websites to see if they have any special offers available on this day.
Jun. 11 • Children's Day
Brands and retailers often show their support for Children's Day by rolling out discounts for children's items such as clothes, toys, and art materials. You might also see Kids Eat Free deals at select restaurants.
Jun. 18 • Father's Day
Father's Day will be full of sales and offers, from the usual gift ideas like power tools and electronics to accessories and tools for hobbies like fishing and hunting. See the best Father's Day deals.
July Sale
July brings with it warmer days, Fourth of July festivities, food-themed celebrations, and summer clearance sales. Enjoy discounts on a variety of items, from daily essentials to outdoor gear. And Amazon Prime Day falls on July, so get ready to look for generous Amazon deals.
July Products on Sale
✓ Seasonal Clothing
Enjoy huge discounts on summer clothing through summer clearance sales. Look for offers on sunglasses, shirts, and swimwear from retailers and big brands.
✓ Outdoor Gear
July is one of the best times to purchase outdoor gear. Sporting goods stores and online retailers alike offer generous sales on outdoor gear, whether it's fishing equipment, camping essentials, or hiking accessories.
✓ Personal Electronics
For some retailers, Black Friday doesn't always have to be in November. Some of them opt to add a Black Friday in July, so you're most likely to find discounts on personal electronics from Best Buy and Amazon.
✓ Patriotic Items
With Fourth of July come patriotic-themed items. Prior to July 4, stores offer sales on patriotic items, sporting goods, and even jewelry.
Important Shopping Days in July
Jul. 04 • Independence Day
Expect to see offers branded around the Fourth of July festivities, from generous discounts to freebies. See the best 4th of July deals.
Jul. 07 • World Chocolate Day
Indulge in your love for all things chocolate on this day, as many companies and retailers offer discounts for chocolates and chocolate-themed goods.
Jul. 16 • National Ice Cream Day
One of the most well-loved desserts, ice cream is celebrated on this day with unique offers and discounts for all your favorite ice cream brands and flavors. See the best Ice Cream Day deals and freebies.
Jul. 19 • National Hot Dog Day
In celebration of one of the all-time American favorites, National Hot Dog Day brings with it freebies and promos that'll make you love hot dogs even more.
Jul. 29 • National Lipstick Day
Embrace your love of lipsticks and expect that some big brands might offer fabulous deals, discounts, and freebies. Enjoy markdowns and free lip products or free shipping from brands such as MAC Cosmetics, Ulta Beauty, Fenty, and Sephora, among others.
August Sale
August signals the end of summer and heralds back-to-school season. It's also one of the hottest months of the year. Expect to find deals for end-of-the-season items and school supplies.
August Products on Sale
✓ School Supplies
With back-to-school season come sales for school supplies. Enjoy plenty of discounts on essential items from retail giants like Target, Walmart, Staples, and Office Depot. Stores also offer discounts online and possibly even some offers for in-store pickup.
✓ Laptops
If you can't wait until Black Friday to get a new laptop, the good news is you can enjoy back-to-school sales and get decent discounts on tech and gadgets.
✓ Start of Labor Day Sales
While Labor Day won't be until September 4, you can expect to find pre-Labor Day sales from many big brands. So, it might be a good idea to shop around for deals on gadgets, outdoor gear, and even furniture during this month.
Important Shopping Days in August
Aug. 08 • International Cat Day
A day dedicated to your feline friends, you can look for deals online or in-store for cat food, toys, and other accessories.
Aug. 26 • International Dog Day
Man's best friend also deserves a special day. On International Dog Day, you can expect to find offers on dog food, toys, and other pet essentials.
September Sale
Ah, sweet September with its blowout sales and good buys. You'll be greeted with discounts on Labor Day sales, plus you might even get to snag some of the latest iPhone deals. Check our shopping calendar to see what deals you can find this month.
September Products on Sale
✓ Apparel
Want to stock up on summer clothing? Now is the best time to do it, with big brands like Gap, Hanes, and American Apparel giving out generous discounts of up to 50% off on selected items.
✓ Home Appliances
Labor Day sales make September a great month for upgrades. You can expect to find huge deals on days leading up to Labor Day, so be sure to keep an eye out for promotions on large and small appliances from retailers like Best Buy and Home Depot.
✓ Mattresses
September is one of the best months to buy a mattress. You can look for offers that are in line with Labor Day sales.
Important Shopping Days in September
Sep. 04 • Labor Day
Labor Day and the weeks leading up to it will be full of sales and offers, allowing you to purchase essentials and little luxuries without necessarily going out of budget. See the best Labor Day deals.
Sep. 10 • National Grandparents Day
On National Grandparents Day, you can expect to see discounts on themed items, such as mugs and personalized products, and even promos in some restaurants and establishments.
Sep. 12 • National Video Games Day
Video game enthusiasts will have something to look forward to on September 12. Look for offers online or in-store on video game titles, consoles, and accessories.
Sep. 18 • National Cheeseburger Day
Cap off the cheesiest and beefiest day with free or discounted cheeseburgers from stores such as Applebee's, Burger King, Denny's, and Smashburger.
October Sale
October might be a slow month for some, but it's not without its fair share of discounts. It's the start of Halloween season, so you're bound to see more treats instead of tricks when it comes to deals for product categories such as outdoor furniture, candy, and Halloween décor. Don't forget to keep an eye out for early Black Friday sales!
October Products on Sale
✓ Outdoor Furniture
With the weather gradually getting colder, people are less likely to spend time outdoors. With this in mind, you can expect deals on outdoor furniture once the summer season ends.
✓ Candy
In preparation for Halloween, you can enjoy discounts on candies and chocolates. So it's best to stock up on sweet treats for trick-or-treaters.
✓ Plants
You might be surprised to find that October holds a great deal of markdowns for perennial plants, which are considered to be generally low-maintenance plants.
Important Shopping Days in October
Oct. 01 • International Coffee Day
Are you a coffee lover or know someone who enjoys a delicious cup of coffee? Well, you have good reason to celebrate as International Coffee Day brings with it a lot of discounts and offers from coffee shop chains, cafes, and specialty stores.
Oct. 04 • National Taco Day
Have your fill of tacos on National Taco Day! Celebrate by visiting your favorite taco stand or by enjoying scrumptious free or discounted tacos from stores like Jack in the Box, Taco Bell, and Del Taco.
Oct. 09 • Columbus Day
Deal hunters will delight in finding low prices and amazing sales on Columbus Day. Expect to see sales and promos for essentials such as mattresses, appliances, and electronics.
Oct. 31 • Halloween Day
Halloween isn't as scary with all the generous discounts you'll be getting for themed décor, costumes, and accessories. See the best Halloween deals.
November Sale
It's not yet the most wonderful time of the year, but with all the Black Friday and Cyber Monday sales happening, it looks like it already is. You'll have the opportunity to get great deals on electronics, home appliances, tools, and even school supplies. So get ready for some of the best deals this month has to offer.
November Products on Sale
✓ School Supplies
You'd be surprised to find that school supplies have significantly marked down prices by November, making it a great time to stock up on essential items like pens, pencils, and notebooks.
✓ Baking Supplies
You'll love baking for the holidays with all the discounts you'll be getting on baking supplies. Look for discounts on baking supplies online or for sales on groceries from your local shops.
✓ Home Appliances and Electronics
Black Friday and Cyber Monday equal huge markdowns on electronics, home appliances, and tools. Now would be a good time to purchase that dishwasher and refrigerator that you've been eyeing for months.
Important Shopping Days in November
Nov. 11 • Veterans Day
Veterans Day sales often fall before Black Friday, but they can sometimes happen simultaneously. You can find these deals online or in-store, from companies such as JCPenney and Target.
Nov. 11 • Singles Day
Originally a Chinese shopping holiday, this has since grown to become one of the world's largest shopping days. Go online and check offers on Alibaba and other affiliated sites. You might also be able to see deals and promos from brands such as Best Buy, Steam, and Target.
Nov. 23 • Thanksgiving
Many businesses are likely to roll out discounts as a way of thanking their patrons. So, before Black Friday, you might get to enjoy Thanksgiving discounts.
Nov. 24 • Black Friday
Black Friday brings with it some crazy deals. Along with the deals come the crowds. To stay safe during these uncertain times, you can also check for Black Friday deals online.
Nov. 25 • Small Business Saturday
This day is all about small businesses and local merchants, so you might find promotions, offers, and special discounts from some of your favorite neighborhood establishments.
Nov. 27 • Cyber Monday
Not everything is about Black Friday. Did you know that some retailers offer bigger markdowns on Cyber Monday? So, if you missed the offers on Black Friday, you can still look forward to Cyber Monday, which is also known as the biggest online spending holiday.
December Sale
December Products on Sale
The final month of the year brings with it generous discounts. So if you think you've missed out on some of the previous months' offers, you don't have to worry—sales are still being rolled out in December, so be on the lookout for exclusive deals and Holiday promos.
✓ Gift Cards
One of the best ways to share joy this season is through gift cards. With companies like Amazon and PayPal offering discounted gift cards for various brands, you'll get to enjoy savings and give someone a practical and useful gift at the same time.
✓ Toys and Video Games
Toys and video games, two of the most popular gift items, will also be on sale this month, in time for the holidays. You can expect to see markdowns of up to 80% on toys alone.
✓ Electronics
Some of the Black Friday deals for electronics will go over into December, so be sure to keep an eye out for them.
Important Shopping Days in December
Dec. 12 • Green Monday
Green Monday is one of the busiest retail shopping days in the country. You can expect to find huge discounts on some of your favorite brands online.
Dec. 14 • Free Shipping Day
Shop your heart out and take advantage of free shipping on this one-day event. Some regular participants include Target, Staples, JCPenney, Sephora, and Sears.
Dec. 23 • Super Saturday
Super Saturday usually falls under the last full Saturday before Christmas. That's why it's considered one of the best days to do some last-minute holiday shopping. It even rivals Black Friday and Cyber Monday in terms of shopping and sales. On this day, both big brands and small businesses offer a wide range of in-store and online discounts, competitive pricing, and extended store hours to entice last-minute shoppers.
Dec. 25 • Christmas
Celebrate the holidays with Christmas sales, offers, and freebies for a wide range of items, from food and drinks to household items.
Dec. 26 • Boxing Day
Retailers will be eager to offload some of their stocks before the new year approaches. This means huge sales on apparel, pet essentials, shoes, and even home furniture.
Dec. 31 • New Year's Eve
Be prepared for the next year by looking for special promotions on holiday décor and accessories. You can check websites to see what kind of discounts some of your favorite brands might offer this season.
Frequently Asked Question
What Day of the Year Has the Best Sales?
Most people would say it's Black Friday, but it depends on what you're looking for. There are various annual sales events, some of which happen over the holidays. Each event offers seasonal promos and discounts for specific items or seasonal goods. In January, for instance, you'll get great deals for winter apparel, TVs, bath items, and more.
What Is the Biggest Shopping Day of the Year in the U.S.?
The biggest shopping day of the year in the U.S. is now Super Saturday, which is the closest Saturday to Christmas. In 2020, consumers spent approximately $36.1 billion on Super Saturday, exceeding the $10.8 billion spent on Cyber Monday. It was also four times higher than the sales recorded on Black Friday.
What Is the Busiest Shopping Day of the Week?
For e-commerce, Mondays and Thursdays are the busiest shopping days of the week. Sales gradually increase from 3 pm to 10 pm, while peak hours are between 8 pm and 9 pm.