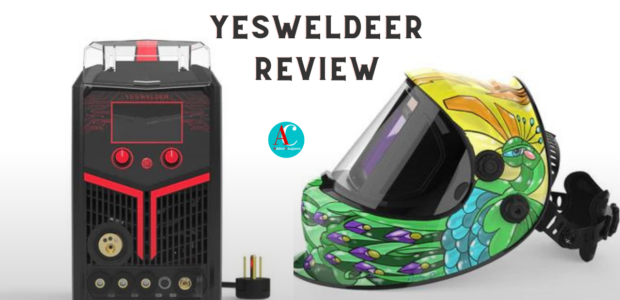 In the ever-expanding world of welding fabrication, both aspiring beginners and experienced professionals look for affordable, durable, and top-notch welding solutions that keep pace with their increasing demands. YesWelder has successfully stepped up and filled this void by delivering high-quality equipment and excellent customer service. Through their unwavering commitment to innovation, they continue to provide welding enthusiasts with the tools they need to create lasting and inspiring projects, making YesWelder a favorite choice among welders worldwide.
Product Range
YesWelder offers a comprehensive range of products suited for diverse applications in the welding industry. Their product catalog includes MIG, TIG, and STICK welders, plasma cutters, welding and cutting torches, welding helmets, and an extensive array of accessories that cater to every welding need. They also offer combo-packages, making it easy for a welding beginner to obtain an all-in-one solution without delving into the technicalities of determining each required component.
YesWelder welding helmets
Welding, often a hazardous task, demands protective gear that shields the user from potential harm. YesWelder's extensive line of welding helmets offers impeccable protection without compromising on style or user experience. The auto-darkening feature in their helmets is a game-changer, utilizing advanced technology to protect the welder's eyes from harmful radiation and sudden flashes. With ample space for breathing and a comfortable head adjustment system, their LYG-M800H is one of the many helmets that pamper users with comfort and functionality. 
Welders rave about the YesWelder Panoramic 180 Auto Darkening Welding Helmet, which features a phenomenal three-panel, 180-degree view, along with excellent color definition and clarity. The helmet's True Color technology reduces eye strain by minimizing the green tint, while the internal sensitivity and delay settings are easily adjustable to meet the specific needs of each user.
Beyond the machines and helmets, YesWelder offers a diverse range of welding accessories and consumables, ensuring that every aspect of the welding process is accounted for. Dedicated to providing a one-stop-shop solution, they carry everything from MIG and MIG spare parts to TIG torches and plasma cutting torches, catering to a wide variety of welding applications.
YesWelder 5-in-1 Welding Machine
YesWelder 5-in-1 Welding Machine – a versatile, high-performance welding solution designed to cater to the diverse needs of both amateur and professional welders. This innovative contraption not only embodies the company's commitment to delivering quality and affordability, but it also sets a new benchmark in welding technology by offering a remarkable range of functionalities.
At the core of this powerful welding equipment lies five essential welding processes, making it a one-stop solution for every welding requirement. These processes include the cutting-edge MIG (Metal Inert Gas) and TIG (Tungsten Inert Gas) welding, as well as the robust Stick (Shielded Metal Arc) and Flux-Cored (Gasless MIG) welding. Additionally, it brings the plasma cutting technique to the table, thus enriching its usability across myriad applications.
The YesWelder 5-in-1 Welding Machine boasts several notable features that make it stand out from other machines in the industry. It encompasses a compact, lightweight design that facilitates effortless maneuverability and saves storage space. The machine comes equipped with an intuitive digital control interface, allowing users to seamlessly navigate through the various settings and adjust parameters as per their welding demands.
YesWelder accessories range
YesWelder's unwavering attention to detail is also evident in their accessories range. From high-quality welding gloves to protective goggles and magnetic torch holders, they ensure that their customers are fully equipped to handle any welding task. These accessories are built to withstand the harsh and rugged environment typically associated with welding work.
With a global presence and a business model that focuses on nurturing long-term relationships with customers, YesWelder's customer support is exemplary. Queries and concerns are addressed promptly and courteously, reflecting the company's commitment to customer satisfaction.
Quality and Performance
YesWelder's products boast superior performance and an impressive duty cycle that ensures uninterrupted work throughout the day, preventing overheating during longer welding periods. All equipment is designed with a high degree of precision, offering immaculate welding results and effortless arc initiation. Their welders can handle various welding jobs on a range of metals such as steel, aluminum, and stainless steel, demonstrating brilliant versatility.
Safety and Comfort
Prioritizing user safety, YesWelder's welding helmets offer advanced features such as true-color large-view lenses with impressive clarity and automatic darkening, reducing eye fatigue while providing excellent protection. Their helmets are also equipped with adjustable headgears that ensure a secure and comfortable fit for all day usage, alleviating the risk of potential accidents.
User-Friendly Interface
Do not let their devices' technical sophistication scare you away; YesWelder's machines come with an intuitive user interface suitable for users of all skill levels. Their clear and easy-to-understand LCD displays and comprehensive instruction manuals ensure a hassle-free welding experience, catering to both professionals and those new to welding.
Exceptional Value for Money
Without compromising on quality, YesWelder has made it their mission to provide affordable welding equipment for everyone. The brand prides itself on offering well-designed, durable, and reliable welding products that can compete with more expensive brands on the market while being accessible for all budgets. In addition, providing excellent customer support and fast shipping services only adds to their overall value proposition.
Why I prefer YesWelder?
YesWelder's dedication to superior design and manufacturing standards ensures that their offerings not only meet the technical requirements but also provide a pleasant user experience. One cannot overlook the attention paid to ergonomics and comfort, making long hours of welding work less strenuous on the body.
A popular choice among hobbyists and tradespeople, the YesWelder MIG-205DS is an excellent example of their commitment to innovation and quality. This multi-process welder boasts a synergic control system, allowing the user to fine-tune their welding experience by adjusting wire speed and voltage for optimum results. Capable of MIG, flux core, TIG, and stick welding, the MIG-205DS is an impressively versatile machine for its price.
What sets YesWelder apart is their dedication to value for money. The TIG-250P AC/DC machine is a testament to this philosophy. With robust capabilities for TIG and stick welding, the machine boasts several advanced features such as 2T/4T switch, a pulse feature for superior arc control, and adjustable AC balance. All these are packed in a machine priced competitively in comparison to other similar models in the market.
YesWelder discount coupons
With these special YesWelder discount coupons, clients can save a considerable amount of money on their indispensable welding necessities. The savings garnered from these exclusive offers can make a significant difference to one's budget, particularly for small businesses and individual welders. The coupons can be used to avail hefty discounts on a wide array of products, including high-performance welding machines, technologically advanced welding helmets, and other essential welding accessories like gloves, jackets, and more.
By offering these exceptional deals and discount coupons, YesWelder aims to make their superb, state-of-the-art welding equipment and safer, more comfortable gear readily available to a broader clientele, allowing them to experience the superior welding capabilities and unparalleled quality that the YesWelder brand is known for globally. It's never been easier or more cost-effective to own high-performance and innovative welding tools that stand the test of time and endure even the most demanding welding applications. With YesWelder discount codes, the company's unwavering passion for welding and dedication to providing the best products at affordable prices is indeed turning their vision into a reality for many.
Conclusion
YesWelder has successfully made a name for itself as a reliable, affordable, and high-quality welding equipment provider for hobbyists, students, and professionals alike. With their dedication to supplying top-of-the-line products, superior customer service, and a strong passion for welding, YesWelder solidifies its position as a must-consider brand for welders across the globe.
Experience the difference by bringing precision, performance, and affordability into your welding world with YesWelder equipment today. Happy welding!
FAQs
What types of welding machines does YesWelder offer?
YesWelder specializes in producing an extensive range of versatile welding machines, including:
1. MIG (Metal Inert Gas) Welders – These machines use a continuous wire feed to produce clean and spatter-free welds, making them ideal for a range of applications, from automotive repairs to light industrial tasks.
2. TIG (Tungsten Inert Gas) Welders – Renowned for their precision and versatility, TIG welders offer unparalleled control when working with thinner materials, catering to projects within the aerospace, automotive, and artistic sectors.
3. Stick (Shielded Metal Arc) Welders – These rugged machines provide excellent adaptability when welding thick materials or in outdoor environments, where exposure to wind or contaminants is a concern.
4. Plasma Cutters – These powerful machines use ionized gas to produce precise, clean cuts in conducting materials, making them ideal for both maintenance and fabrication work.
What makes YesWelder helmets unique?
YesWelder offers a range of auto-darkening welding helmets that are specifically designed to enhance functionality, safety, and user experience. With features like True Color Technology, welders can benefit from improved visual clarity and color perception while working. This results in increased safety and precision throughout the welding process. Moreover, the helmets are designed for optimal comfort with lightweight design and extended battery life to support long-term use.
What accessories does YesWelder provide?
YesWelder caters to every welder's needs by offering a comprehensive selection of essential accessories, including welding consumables, welding cables, torches, replacement parts, and protective gear such as gloves, jackets, and aprons. These accessories serve to elevate the user experience by providing additional efficiency, safety, and longevity to their main welding equipment.
Can I purchase YesWelder products internationally?
Absolutely! YesWelder is committed to making their high-quality welding equipment accessible to individuals all around the world. With a wide network of distributors and online shopping capabilities, obtaining your desired YesWelder product has never been more convenient.